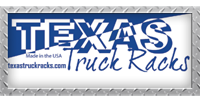 Texas Truck Racks began manufacturing headache racks and removable ladder racks in 2005.
Some things have changed — a larger facility, a few more employees and a few more products.
But one thing has remained constant: our commitment to manufacturing high quality products at a price that reflects solid value for our customer's investment.
Most of our sales are through professional van upfitters and truck equipment outfitters. But our focus is the end user who demands reliable and cost effective van and truck equipment to do their jobs efficiently.
I believe it's our commitment to the tradesman that has fueled our growth and kept us in business for more than 16 years.